This month in paleontology news… a well-preserved Tyrannosaurus Rex skull was found in Montana. It has been dubbed the "Tufts-Love Rex" in honor of the volunteer paleontologists who first saw bones sticking out of a hillside: Burke Museum's Jason Love and Luke Tufts. The researchers unearthed ribs, hips, jaw bones and vertebrae and the skull, which is about 4 feet long. Estimated to have lived 66.3 million years ago, "Tufts-Love Rex" will be displayed at Burke Museum in Seattle. Dinosaurs are perpetually fascinating to all ages and we recommend the following books to meet rekindled interest.
Headlines: T. rex with Well-Preserved Skull Found in Montana's Hell Creek Formation (Scientific American)
FEATURED TITLES:
GRAVE SECRETS OF DINOSAURS: SOFT TISSUES AND HARD SCIENCE by Phillip Manning
Dr. Manning takes us on a thrilling, globe-spanning tour of dinosaur mummy finds—from the first such excavation in 1908 forward.
JURASSIC PARK: A Novel by Michael Crichton
An astonishing technique for recovering and cloning dinosaur DNA has been discovered. Now humankind's most thrilling fantasies have come true: This is the classic thriller of science run amok that took the world by storm.
HOW TO BUILD A DINOSAUR: THE NEW SCIENCE OF REVERSE EVOLUTION by Jack Horner and James Gorman
A world-renowned paleontologist reveals groundbreaking science that trumps science fiction: how to grow a living dinosaur
T-REX TRYING: THE UNFORTUNATE TRIALS OF A MODERN PREHISTORIC FAMILY by Hugh Murphy
From the author of the sleeper hit T-Rex Trying, a sweetly funny new collection of drawings of T-Rex and his family being stymied by the modern world—and their unfortunately short arms.
DINOSAUR ART: THE WORLD'S GREATEST PALEOART by Philip J. Currie, Steve White, Scott D. Sampson
In Dinosaur Art, ten of the top contemporary paleoartists reveal a selection of their work and exclusively discuss their working methods and distinct styles. Filled with breathtaking artwork – some never before seen – and cutting edge paleontology, this is a treasure trove for dinosaur enthusiasts, art lovers and budding illustrators.
FOR YOUNGER READERS
SEA REX by Molly Idle; Ages 3-5
Following in the extremely large and funny footsteps of Tea Rex and Camp Rex, Sea Rex stars Cordelia and her Cretaceous comrades as they spend what Cordelia hopes will be a pleasant day at the beach. Between scaly sunburns and dino-sized waves, will Cordelia get her perfect beach day?

EVERYTHING YOU NEED TO KNOW ABOUT DINOSAURS by DK Publishing; Ages 7-10
Packed with images, games, size comparisons, timelines, a glossary, an index, and more, Everything You Need to Know about Dinosaurs will satisfy the curious minds of dinosaur-crazed kids, and be a trusted source for parents wanting to introduce their young readers to the world of dinosaurs.
DINOSAURS BEFORE DARK (Magic Tree House # 1) Mary Pope Osborne; Ages 6-9
the mysterious tree house whisks Jack and Annie to the prehistoric past. Now they have to figure out how to get home. Can they do it before dark…or will they become a dinosaur's dinner?
Visit the Magic Tree House website magictreehouse.com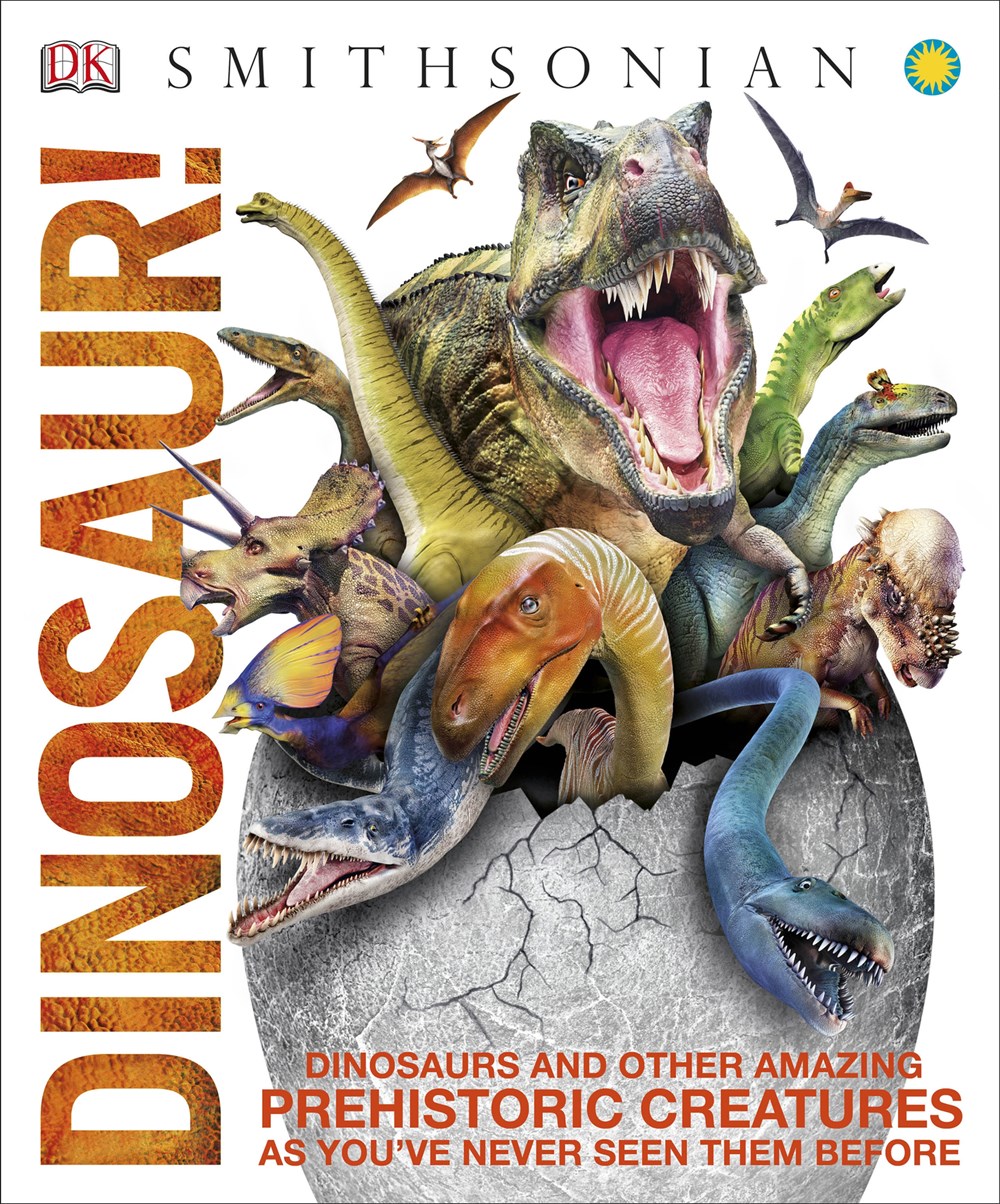 DINOSAUR!; Ages 8-12
Created in conjunction with the Smithsonian Institution and packed with fun facts on fossils, amphibians, sea creatures, woolly mammoths, Neanderthals, insects and more, Dinosaur! will intrigue readers and provide an experience that will redefine natural history for kids.
---